Preschool Program
Our Preschool Program (2 ½ to 3 years) is based on learning through play. Teachers plan activities following the Creative Curriculum where children work through developmentally-appropriate individual and group activities. Learning through play encourages large and small muscle development to help your child grow.
We provide social-emotional, language, and cognitive based experiences designed to help your child contiue to build upon the developmental progress they have made in our Infant and Toddler Programs. Through art, music, early literacy and mathematics, our activities keep your child physically and intellectually engaged while satisfying their curiosity!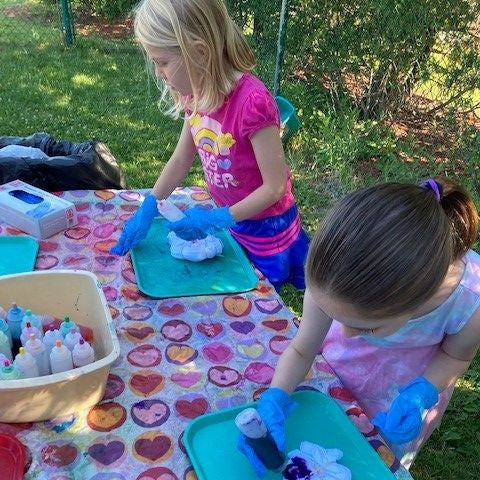 Preschool
In Preschool programs we focus on communication skills, both speaking and listening. Problem-solving skills and techniques are included and explored. These are learned and developed through our play-based activities as well as positive interactions with teachers and other students.

Children are encouraged to talk to each other about conflict and problems. Some children at this age may be shy or choose to watch at the boundaries of an activity. We create space for individual preferences in various levels of activity.

Independence is encouraged through self-directed (free choice) activities and self-help is promoted during routine activities such as eating, toileting, handwashing and so forth.  Your child begins to gain freedom while under the watchful eye of our professional child care teachers. We are always ready to guide and support your child's ongoing developmental progress and growth.
Preschool Curriculum
Our Preschool Program begins in our Emerging Preschool Classroom where toddlers transition into a preschool environment. Our teachers focus on helping children continue with the toilet learning skills they have been practicing in the toddler classrooms. This classroom has 1 teacher for every 8 students, and has a maximum of 16 children enrolled each day.
Children move to our Young Preschool Classroom once they turn 3 years old. When children become fully potty trained and are 3 1/2 years old, they then transition to our Preschool Classroom. Both classrooms have 1 teacher for every 10 students and have a maximum of 20 children enrolled each day.
All of our preschool classrooms use the Creative Curriculum, which provid children with a wide range of learning opportunities.  Throughout their preschool years, your child will meet challenges intellectually, socially and emotionally.  Our professional preschool teachers are there to help them along each developmental step of the way.
Your child will spend time continuing to develop large and small motor skills.  Keeping individual learning styles in mind, we have Interest Areas designed to enhance your child's growth. We know that not every child learns in the same way.  Some learn by watching, some through listening and some are hands-on learners.  Children can even be a combination of all three. We offer different Interest Areas such as Dramatic Play, Blocks, Toys and Games, Art, Library, Discovery, Sand and Water, Music and Movement, Cooking, and the Outdoors. These well-appointed areas accommodate each different learning style.
Teacher-directed activities introduce educational concepts, reinforce creativity and support meaningful socialization. Children are encouraged to express independence through self-directed activities. In introducing the elements of basic academics, our goal is to better prepare your child for kindergarten and help provide them with a successful foundation and transition.
Children in our Young Preschool and Preschool classrooms have Young Children's Worship each week. During this time, our preschool students learn more about our Catholic Faith through fun activities and experiences related to the topic of All Saints Day, Felician Sisters Mission and Heritage Week, Advent, St. Nicholas Day, The Nativity, Catholic Schools Week, St. Valentine's Day, St. Blaise Day, Ash Wednesday, Lent, St. Patrick's Day, Palm Sunday, Easter, and May Crowning.
As your child prepares for Kindergarten we bring them the safe and loving environment necessary for stimulation and growth. As they grow more comfortable with their peers and teachers, they begin to express themselves and find fun new ways of learning. Our teachers will continue to track individual developmental progress using the GOLD Assessment and will share progress with families twice year at parent teacher conferences.
Our team focuses on creating the best possible environment for your child, and we work every day to ensure your child's confidence in school continues to grow and flourish.