Kindergarten Readiness Program
The Kindergarten Readiness Program (4 to 6 years) focuses on socialization skills, along with providing varied levels of exposure to academics as we prepare your child for Kindergarten. Teachers continue to enhance the development of social-emotional skills, physical, language, cognitive, literacy, and mathematic skills as children become even bigger explorers of the world around them. We encourage creative and dramatic play among peers as their communication skills begin to sharpen and we support open dialog as children enhance problem-solving skills.
The Creative Curriculum and Young Children's Worship
Our curriculum in preparing your child for Kindergarten concentrates on spending time on developing academic skils through the use of our Interest Areas. These Interest Areas include: Dramatic Play, Blocks, Toys and Games, Art, Library, Discovery, Sand and Water, Music and Movement, Cooking, and the Outdoors.
We provide a balance between free choice activites, large group activities, small group activities and individual activites according to each child's level of growth.
Our staff plans varied experiences for children throughout the day including:
- Math Concepts
- Emergent Literacy (letter and word recognition)
- Music and Dramatic Play
- Large and Small Muscle Activies
- Arts and Sciences
Children are assessed by their teachers using the observational-based GOLD Assessment, and the results are shared with familes in the fall and spring at Student Progress Conferences.
Our Kindergarten Readiness students participate in Young Children's Worship in a more active way and have special opportunities to participate in our annual Christmas Nativity programand our annual May Crowning to honor The Blessed Mary.
Intergenerational Preschool Program
Note: Due to COVID-19 Pandemic, this program has been temporarily suspended until determined safe for both children and senior participation.
St. Mary Child Care Center offers a unique experience for your child. We have partnered with Marywood Nursing Care Center in a cross-ministry collaboration.
Together our two ministries offer the Intergenerational Preschool Program: Project Wonder and Wisdom. On a weekly basis children go over to Marywood Nursing Care Center where they meet with their Senior Buddies.
Here children and Seniors learn together, interact, socialize and share lunch.  This offers children an opportunity to be with elders; those they may not otherwise come in contact with.
It teaches children the core values for ministry centered toward Respect for Human Dignity, Compassion, Transformation, Solidarity with Those in Need and Justice & Peace.
Seniors receive the gift of love, companionship and friendship. It helps seniors stay active, provides opportunities to stimulate their cognitive skills and memory and provides moments to exercise their large and fine motor skills.
These valuable experiences lead to a more expressive and interested child who loves to learn. Creating those life-long learners is a primary goal at St. Mary Child Care Center. We love for your child succeed in our programs and beyond as they enter the first stages of their academic career!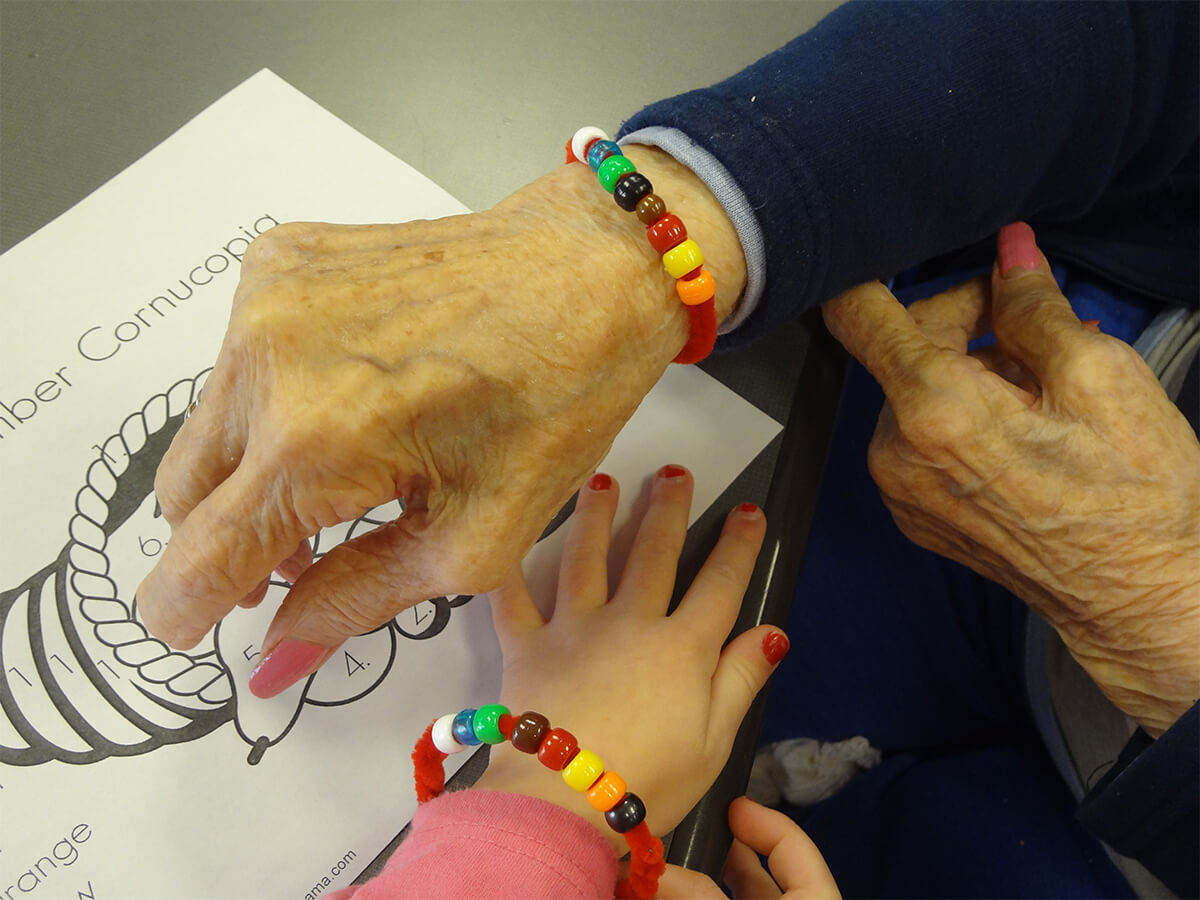 Is My Child Ready For Kindergarten?
Parents come to our center with this question all the time. As your child reaches Kindergarten age level it is important to consider whether or not they are ready for the next step.
In Kindergarten your child will meet many new challenges academically, emotionally and socially. When deciding weather you child is ready for Kindergarten, look well beyond their age.
Seek advice from your child's preschool teachers, your pediatrician, your child's future kindergarten teacher and most of all rely on your own intuition as a parent. You know your child best!  Read more important information on Kindergarten Readiness.
At St. Mary Child Care Center we offer early childhood programs through Kindergarten Readiness. Our programs are structured to build upon each other as children transistion through our Center.
Our program is designed to help your child progress physically, emotionally and socially while mastering developmental milestones. Our Kindergarten Readiness Program helps prepare your child for Kindergarten through a guided curriculum and an academic research based approach.
They learn what will be expected of them in Kindergarten as they prepare to transition into the next phase of their educational journey.